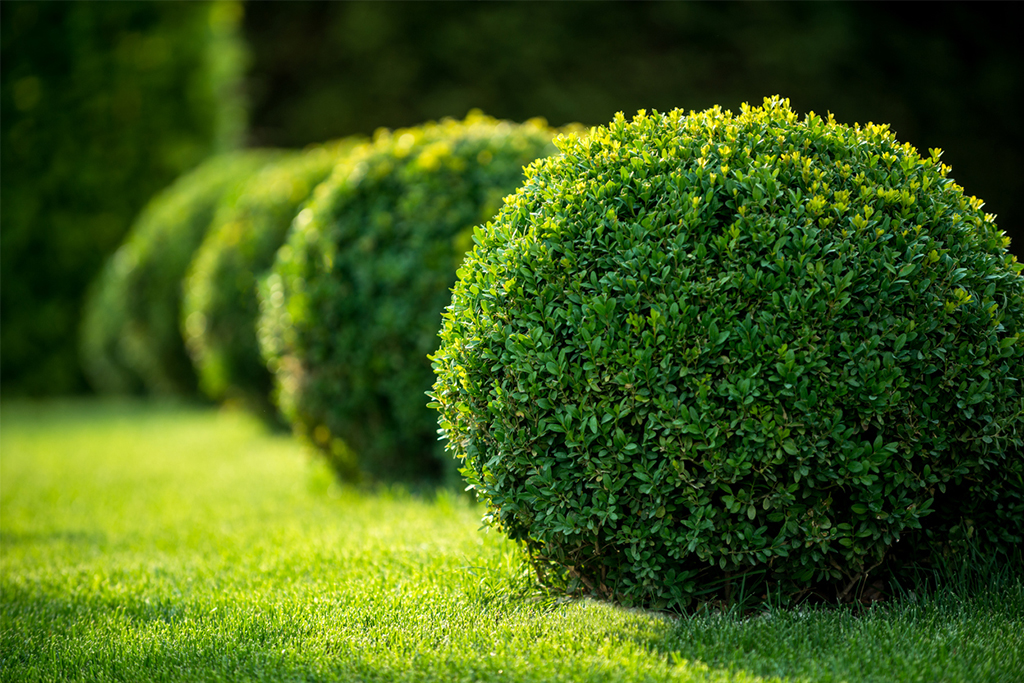 Here at Michigan Landscape Professionals, we have designed a 6-step tree care program designed specifically for Michigan's 4-season climate. Our certified technicians and expert staff can help create a program tailored to your property and the needs of your trees and shrubs. Our team has a program that combines timely treatments with a regular inspection. This type of program puts us on your property when your trees need us the most and these well-timed applications prevent damage from extreme weather, fungus, insects, and nutrient deficiencies. Not every one of your trees will always need insect and disease control all year long, but when they do, we will be there to treat them at the right time of year.
A typical schedule could look like this*:
March-April. Weather permitting; we will be applying a dormant oil spray.
April-May. This is a deep root feeding to help recover from the winter stress.
June/July. This will be the first of the insect/fungicide treatments. This is also determined by the trees activity.
July/August. This will be the second of the insecticide/fungicide treatments.
August/September. This will be the third of the insect/fungicide treatments.
October/November. This is a deep root feeding for the fall. This treatment helps the trees better handle the winter stress.
*The schedule can always change depending on the weather. Insects and leaves emerge at different times based on weather and the changing of the seasons.
Other Treatments:
We also offer Needlecast treatments for Spruce Trees. Needlecast is a fungal disease that is affecting spruces very heavily here in Michigan. We recommend 3 treatments for at least 2 years to help fight the disease.
Diplodia is another fungal disease that attacks the pines in Michigan. Similar to Needlecast disease, we recommend 3 treatments for at least 2 years.
In the very late fall we also offer a Wilt Proof treatment for evergreens. Wilt Proof is an anti-desiccant that dries to a thin waxy layer to protect against winter weather damage.
Our company also offers tree injections. These injections are applied without any damage to your trees and are only done once a year. Some customers prefer these injections over spraying as there is no exposure to chemicals or residual from spraying.
Call today for further information on any of our programs or to set up a consultation with one of our expert tree technicians!
What Our Clients Say
"Prior to contacting Michigan Landscape Professionals we had spoken with numerous other companies. We have a tricky site which in my mind meant we had the opportunity to do something really spectacular. As an Architectural designer myself, I have very high standards and am okay with thinking outside the box. After my initial meeting with Craig I finally felt like I had found someone who had a true eye for design. He was able to see the potential in the site and was willing to work with the landscape and not against it. His initial concept was so different than any others that we had seen and it was spectacular! The turn around for quotes and the breakdown of line items was impressive. The actual construction was much the same. Hugo and his crew were a power house! They worked like crazy and were absolutely meticulous with every detail. There were no shortcuts and they went the extra mile to make sure everything was done right. I was speechless at the end of the project. I am typically very good at visualizing design concepts considering that is my profession, but I had no idea how beautiful the final product was going to be. I truly could not have been more pleased with the entire experience. I would recommend Michigan Landscape Professionals to anyone who is looking for a one of a kind, impeccable product with a professional and timely process."
Kate R.

"We had multiple companies quote our job and decided on MLP...The crew were excellent and worked very hard to get our project completed in a timely manner. It was a big project so certain things had to be decided on the fly...They went above and beyond to ensure that our vision was realized.."
Andy M.

"I recently had some new landscaping designed and implemented by [Michigan Landscape Professionals]...[Rick's] design hit all the points I stressed in our initial walk through. The work began ahead of schedule and was executed magnificently by friendly skillful workers."
Benjamin E.

Previous
Next