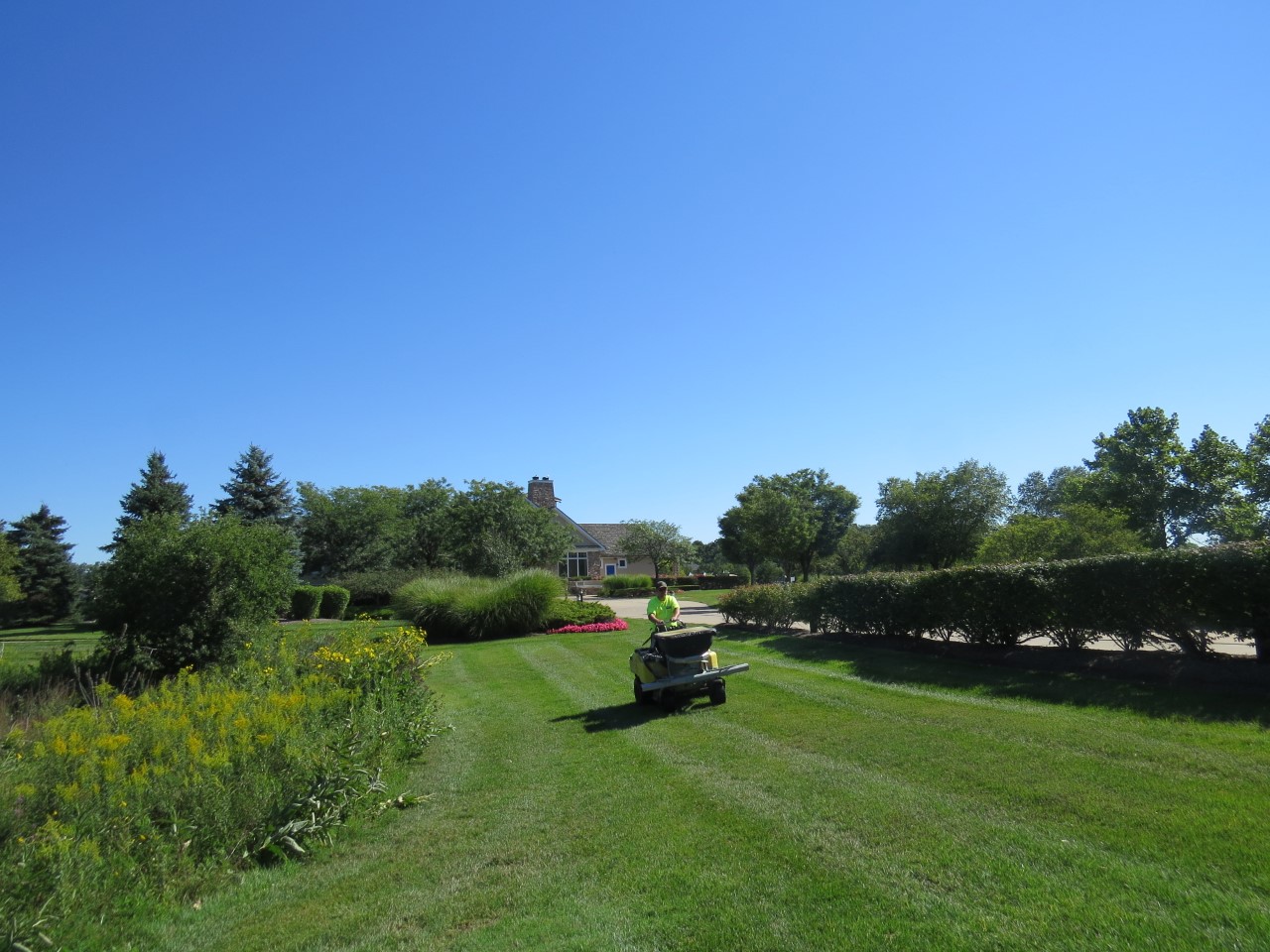 As well as regular fertilization and proper turf treatment, lawn aeration can also have dramatic benefits for the health of your lawn. Lawn aeration can be done either with or without overseeding, but both allow the roots of your lawn to become stronger and prevent or relieve compaction of the soil. If overseeding is added to the lawn aeration, new plants are also introduced and can diversify and strengthen the lawn profile.
Call today or fill out our form to get a free quote and set up your lawn aeration!
If you want to read more about other lawn issues, check out our blogs:
Summer Turf Care: Beat the Heat!
What Our Clients Say
"I contacted [Michigan Landscape Professionals] for an estimate on sidewalk pavers and a walk out patio paved area with grading issues. Salesman Bill D. came out and met with my wife and I and discussed various options. After several consultations a plan was agreed upon. The paver crew led by "Hugo" were unbelievable. Never met such hard working guys. And with Hugo's attention to detail the job was completed without any issues. Bill D. followed up during the project addressing any of my concerns. Previous year I had used a large local company for another project and didn't get the specialized service I received from "Bill D'Alomite and Hugo. Great experience"
Bob & Sue F.

"Very happy with their design and installation of our rockwall and steps. Would definitely hire them again."
Lisa S.

"...absolutely exceeded our expectations...very responsive and amazing to work with...The team that did the work was beyond courteous and professional...The attention to detail and craftsmanship in their work was incredible. The entire project turned out better than we ever could have imagined."
Lana W.

"Working with the folks from MLP is the best landscaping experience we've had in the 20 years we've lived in Hartland. Staff—from owner, David, designers Rob and Craig, managers like R.D. and James and hard workers like Raoul, Pro, Alfredo and many others—all of them—are customer-service oriented. It's in their DNA. They are friendly, organized, efficient, knowledgeable, patient, and impressively very precise. All good qualities we relied on when we decided to design and build a paver patio with gas fire pit and transform our landscape into a natural woodland to enhance our existing wooded lot. Adding tasks on the fly was easy, too. They work with you to give you what you envision and more. MLP takes care of all of our landscaping needs and, based on their performance, they are easy to trust."
Kathleen M.

"We contracted with Michigan Landscape Professionals to execute on a design for complete Hardscape and full landscape installation. Our design was unique and had many levels of detail. Craig Fisher the Project Lead, walked through the build process with us and listened to everything we were requesting. He then built the quote and came back to us with terrific plant suggestions, some design modifications and a time line. The team that was charged with this significant project was a four man crew. Immediately on day one, it was evident that these gentlemen were indeed highly skilled professionals whose attention to detail was inspiring. Most days this crew arrived on the site and began working by 8:30AM and continued until 8:00PM - everyday until the project was completed. Along the way, we had several adjustments on the fly and they just went with the flow. Each night as they began wrapping up the job site, our property was left clean and in order despite the massive amount of construction materials and equipment. They even blew off the vehicles in the street that got covered with brick dust. Remarkable. The level of communication from the project manager(s) was exceptional. We were called daily for updates on material arrival, scope of the project for the day, changes to the cost due to additions etc. Again, exceptional. If you are planning a landscaping project, irrespective of the size, I would highly recommend calling this firm for their expertise. You will not regret your decision."
Peggy L.

Previous
Next